MAKE UP TIPS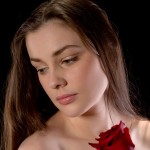 How to apply soft or dramatic make up for yourboudoir photo session
Learn how to apply makeup for your boudoir session with these quick tips for girls. Always look your best when posing for photographers.
You most likely already know how to apply makeup for everyday use but there are a few things that are different in applying makeup for a model photo shoot.
It's not that difficult to learn and if you follow the tips below, you will be on your way to better makeup results for your model session.
Apply a heavier coat
The first key to model makeup is to simply fix your face as if you were going out for the evening, wearing more than for daytime use.
Create extra contrast and especially use more powder. I cannot stress powder enough. This is essential!
To achieve that natural look in your model portfolio, apply a little more than you would in your daily activities and even more than you would if you were going out for the evening.
When you look in the mirror you will feel that you are wearing too much makeup but remember that the studio lights will reduce the amount of makeup you have on so don't worry.
How do you achieve the model look? Follow the simple steps listed here and, with a little practice, you should be able to get the results you're after and have a successful makeup session.
Moisturizer & Concealer
First, moisturize your face thoroughly and then follow with concealer. The concealer you use for photos should be 2 or 3 shades lighter than your skin tone.
You will use concealer in order to hide blemishes, to lighten your eyes and you'll need concealer to hide any discoloration around the eyes or lips.
The Foundation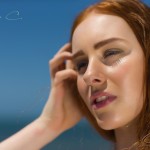 Now, you'll want to use a good, solid foundation and apply it evenly over the face.
Foundation application is very simple but is misunderstood by even some professional makeup artists.
Match the foundation to your chin and neckline. If you miss this step, you and the camera will see a sudden change of color from your face to the neck or upper chest.
Some makeup artists even apply makeup to the neck and shoulders! Why you ask? To match the body to the face. You will have no need to apply makeup to your body (except to hide blemishes) if you follow the suggestion of matching your makeup from the face to the neck.
When you have completed applying your foundation, just apply the rest of your facial makeup as you would normally but apply in heavier amounts for the camera and lights.
Powder
Powder! Powder! Powder! Be sure to remember the powder!
I'm sure you've seen makeup artists apply makeup to actors to get them ready for a TV show or the movies. If you have you must have noticed that the makeup artist is constantly patting the actors face with a powder applicator. Have you wondered why?
The reason is that powder, and lots of it, is necessary to create that beautiful matte finish which is always present in a great portfolio. "But I never use powder." you may say. Even so, please use it for your model photo shoot. Powder makes the difference between a beautiful photo and just a photo.
When applying powder, use a lighter shade under the eyes to help eliminate any shadows or dark circles that the concealer didn't take care of.
Applying Facial Makeup – The Oval Look
Now that you understand the importance of using powder, apply makeup below your cheekbones and under your chin to create an oval look to the face. Be sure to blend the makeup in and not create distinct lines. Put this makeup on a little darker but not too heavy.
Lip Color
In order for your lips to stand out and be noticed, be sure that your lip gloss is a solid color and at least one shade deeper than you normally wear it.
Your lip liner should be the same color as your lipstick.
DO NOT WEAR BLACK LIP LINER!
Stay away from any frosted lip colors entirely because they hardly show up on film and will give the illusion that you are not wearing lip color at all. The only time you would wear frosted is when it's for some effect the photographer wants to accomplish.
Blush
Apply your blush a little heavier than normal but neatly and precisely. Don't over or under apply blush. This will also be in accordance to the effect you or your photographer want to accomplish with your look for this particular model shoot.
Eye Makeup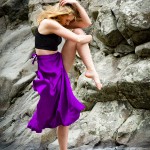 In order to produce the best results, your eye liner needs to be applied starting from the outside of the lower part of the eye and extending about 3/4 length toward the inner part.
Really work on those eyes and lips. These are the two key features in a model photo shoot as with just about any other people photography so get this right!
You'll need to use an eye shadow to compliment the rest of your makeup and clothing but use a light shade so that your eyes will appear more alive.
Start by applying your eye shadow to the upper eye lid and above the eye just below the eyebrow.
The reason you'll want this a light shade is because a darker shade will create an illusion of darkening of the eyes and will give the appearance that you did not get enough sleep the night before which is not going to be very flattering to you. Stay with a light eye shadow to be sure and create the best results for your eyes. If done right, the person looking at your photos will be drawn in directly to your eyes first which is what you normally want to achieve.
Take it With You!
Lastly, be sure and take your makeup case with you to your model photo shoot. You will need to touch up your makeup during the photo shoot and will always need to add powder as the day moves on. Do your best to follow these steps when applying makeup for your model photo shoot and you should get good results from your photo session.